Calabria is one of the most underdeveloped regions of Italy . With its 15.000 square kilometres and a coastline of 800 km , is it the toe of the Italian boot . The area consists mainly of mountains and hills ; only 9 % is flat land . In the past, Calabria has been subject to many rulers , including Greek , Roman , Byzantine , Spanish and French .
This is reflected in the many cultural attractions.
Also the symbol of the Calabria region, divided in four , shows the rich history of the area :
– Left a Byzantine cross , which refers to the Byzantine Empire .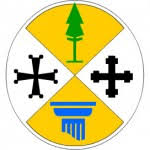 – On the right a cross of the Calabrese crusaders .
–Above branch of a larch that symbolizes the extensive nature of the region .
–Under a Greek column with Doric capital that reminds Magnia Grecia .
The area of Calabria is 240 km long and at a certain place only 32 km wide, its the narrowest point of whole Italy . Calabria and Sicily are separated by the Strait of Messina , between the Tyrrhenian and the Ionian seas .
The centosei ( 106 ) , the only coastal road until recently , runs from Lamezia Terme via Reggio Calabria ( the most southern point of the Italian boot ) up towards Crotone. This road runs between sea and mountains , and cross through a relatively unexplored district. Certainly the Ionian Sea is not touristy. In the summer the immigrants who once left to the north or abroad come to enjoy their vacation and visit their relatives . This is mainly in the month of August ; the whole of Italy is celebrating the holiday.
In the dry Mediterranean climate , the temperature in summer can reach 42 ° C.
That makes the cold here so cold
From the book Blood oranges (see books ) :
'Calabria is a region where you usually look for the shade instead of the sun, where you avoid the beach between eleven and half-past three , where you feel the warm sea breeze till late in a balmy evening and fall asleep up to the time the crickets wake you under a starry sky . Calabria is a dry region , where at least two hundred and fifty days of the year, walking through the country, the dust comes up. A district where you even in January can use clothesline outside . And that is why Calabria is also a region where they have never heard of double glass. Where the cracks in old chestnut wood windows and doors do not disturb anyone. Calabria is region of stone floors .
And perhaps the worst is, concerning the cold, that the winter operates here in secret , like the 'Ndrangheta . During day, you never feel the cold, because the temperature varies in the winter months from ten to twenty four degrees . The sun usually shines or may at any time shine again. The evergreen olive trees make you forget that it's winter. And the lemons and oranges witch hang ripe in the orchards , stimulate the summer impression. You have this summery feel on account of a temperature that last only a few hours a day .

Because the sun does not stay long. Before the end of the afternoon , he disappears behind the mountains . And along with the darkness cold creeps in the stone houses. The cold is coming quietly, along the cracks in the windows, between the tiles from the attic, past the thresholds and doors. In order to finally settle permanently in the stone floors and walls . Of course , the water pipes do not burst because it never freezes in the toe of the boot .'
Italians
From the book Blood oranges (see books ) :
'On my first meeting with Italians, I felt chosen. It did not stop, i met one world champion after another, no matter how small the town café, where the meeting took place. In fact I discovered they where not world champions but they were glorifying boasters. To me, the foreigner , they didn't want to ruin my holiday mood by telling me their troubles.

No, Italians are not as superficial as some brooding northern people claim. They just don't want to bother strangers through self-pity lament.
Only when you know the Italians well, they open themselves and then only in your interest.

When Iris two years ago lost our first child, a dozen village women came to visit her . One with eggs , the second with homemade sopressata , the third wine. Oil and eggs again , each of them brought something . Whether they were the three kings and the infant was born at our home.
And why did they do that ? To tranquilize Iris and tell her that they mothers of many children, also miscarried. That it's part of life; cosi è la vita.

Italians know that when you have problems other people's misery gives you some hope. They tell you their sorrow so it can help you realize that there has always been trouble -much bigger than yours – long before you had them.

Yes , Italians show themselves depending on the circumstances fragile or superficial and in between freedom how close you want them to get. Very nice , I think.'